Bonding Equipment
Ultrasonic is vibration wave (sound wave) with a high frequency that cannot be heard by the human ear, and is used in various fields.
Kaijo's bonder does not use adhesive materials, but utilize the bonding principle (Ultrasonic, Heat, and Load) to connect electrodes on integrated circuits and semiconductor packages with metal wires.

Semiconductors used everywhere in our daily lives are applied to Automobiles, LEDs, 5G communications, IoT, AI, Sensors, etc., and with the development of various technologies, miniaturization and higher performance are progressing day by day. The field of semiconductor assembly equipment has a mission to meet a variety of sophisticated needs such as High speed, High accuracy, Information visualization, Predictive maintenance, and Labor saving and so on. Technological innovation is always required.

Kaijo proposes optimal solutions by making full use of transfer technology, temperature control, and image recognition that are suitable for packages of various shapes and sizes in addition to the bonding technology.
History of bonder
Kaijo has spent more than 50 years sincerely exploring the world of thermosonic bonding in semiconductors.
Since commercializing the manual wire bonder "WA-140N" in 1967, we have been constantly developing the best products for the times.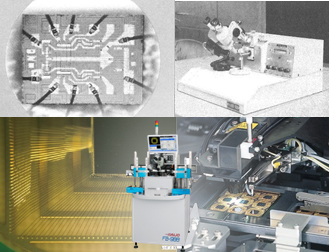 Accommodate all needs with various bonders
Kaijo's bonding equipment has a wide lineup for IC, Discrete, Wafer level, and LASER products.

We will support you with the solutions cultivated through many years of experience in the transfer mechanism and bonding according to the customer's products.