Realize powerful and damage-less cleaning !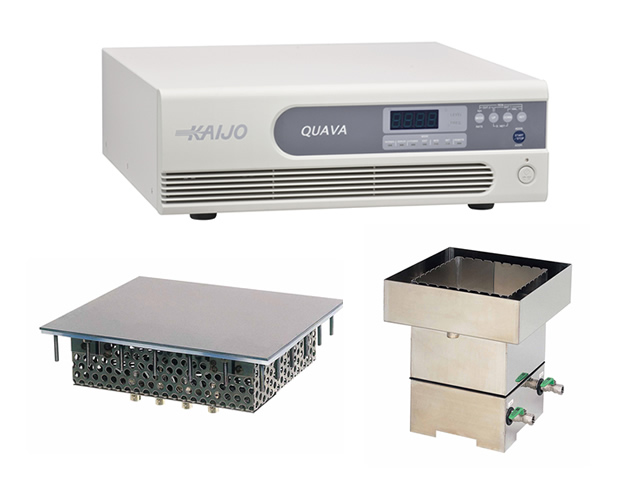 200kHz/430kHz cleaning (MID SONIC)

Suitable for precise cleaning of Si Wafer, GaAS, liquid crystal glass, glass mask, HDD, crystal transducer, thin-film magnetic head, brittle materials and edge of semiconductor wafer.

200kHz and 430kHz Cleaning is suitable for precise cleaning applied middle frequency.
Suitable for precise cleaning of semiconductor wafer, liquid crystal glass, HDD and etc.
Able to clean larger particle which can not be cleaned by megasonic cleaning.
Features(Generator)
Adjustable output power by 0.1W to realize highly stable power supply.
Precise output control is available for damage-less cleaning.
(Available for more than 200kHz)
Selectable 4 types of oscillation mode for more precise cleaning.
Start and Stop speed is adjustable.
QUAVA series is compatible with Hi Megasonic Series to realize better cleaning performance by changing generator.
Normalized size to be fit to 19 inch rack.
Calibration is not required in transducer replacement.
Power source of AC200V to 240V available for the use of foreign countries.
Selectable 10 types of frequency available.
Only transducer replacement is required at frequency changing.
Available frequency: 26kHz/38kHz/78kHz/
100kHz/130kHz/160kHz/200kHz/430kHz/
750kHz/950kHz
Features(Transducer plate)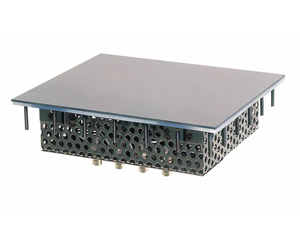 Large size P.Z.T. elements are used for stable cleaning uniformity.
High watt density for effective cleaning performance
Thick transducer plate is used to realize great mechanical strength and longer operating life in order to be installed to cleaning tank comfortably.
Almost no acoustic transmission loss and high efficiency.
Only a few seams of elements for the best effective cleaning
Specifications(Generator)
※You can see the entire table by scrolling.
Generator model
70110
Maximum output power
1200W ※
Frequency
26kHz/38kHz/78kHz/100kHz/130kHz/160kHz/200kHz/430kHz/750kHz/950kHz
Irradiation Mode
PLL mode/INT mode/A mode/B mode
Power soucel
Current
10A
Voltage
AC200V~AC240V(±10% 1Φ 50/60Hz)
Outer dimentions
430(W) ×418(D) ×148(H)
Weight
17kg
Functions
Remote mode
Output setting of 8 types
RS485 communication
Abnormal output terminal
Analog output terminal (Output monitoring)
※You can see the entire table by scrolling.
※NOTE:Max. output power is 600W for 26kHz and 38kHz.